Viper
Robot articulado para mecanizado, montaje y material handling
Capacidad Ethernet para controlar el robot a través del familiar lenguaje de programación (IEC 61131-3) del controlador de máquinas NX/NJ
La pantalla de diagnóstico permite solucionar problemas con mayor rapidez
Encoders absolutos de alta resolución que ofrecen una gran precisión, excelente capacidad de seguimiento y fácil calibración
Reductores Harmonic Drives de alta eficiencia y baja inercia, y un manipulador ligero que proporcionan la máxima aceleración
Alcance: modelos de 650 y 850 mm
5 kg de carga útil máxima
Categoría de protección IP40
Sala limpia C10 como opción
Especificaciones y modelos disponibles
| Producto | Payload | Reach | External controller | Degree of protection (IP) | Cleanroom class | Repeatability | Description |
| --- | --- | --- | --- | --- | --- | --- | --- |
| | 5 kg | 855 mm | Yes | IP40 | Class 10 | 0.03 mm | Viper 850, Add-On, 5 kg payload, 855mm reach, 6 axis, IP40, ePLC, Cleanroom |
| | 5 kg | 653 mm | No | IP40 | none | 0.02 mm | Viper 650, 5 kg payload, 653mm reach, 6 axis, IP40, ePLC |
| | 5 kg | 653 mm | No | IP65 | none | 0.02 mm | Viper 650, 5 kg payload, 653mm reach, 6 axis, IP65, ePLC |
| | 5 kg | 653 mm | No | IP40 | Class 10 | 0.02 mm | Viper 650, 5 kg payload, 653mm reach, 6 axis, IP40, ePLC, Cleanroom |
| | 5 kg | 855 mm | No | IP40 | none | 0.03 mm | Viper 850, 5 kg payload, 855mm reach, 6 axis, IP40, ePLC |
| | 5 kg | 855 mm | No | IP65 | none | 0.03 mm | Viper 850, 5 kg payload, 855mm reach, 6 axis, IP65, ePLC |
| | 5 kg | 855 mm | No | IP40 | Class 10 | 0.03 mm | Viper 850, 5 kg payload, 855mm reach, 6 axis, IP40, ePLC, Cleanroom |
| | 5 kg | 653 mm | Yes | IP40 | none | 0.02 mm | Viper 650, Add-On, 5 kg payload, 653mm reach, 6 axis, IP40, ePLC |
| | 5 kg | 653 mm | Yes | IP65 | none | 0.02 mm | Viper 650, Add-On, 5 kg payload, 653mm reach, 6 axis, IP65, ePLC |
| | 5 kg | 653 mm | Yes | IP40 | Class 10 | 0.02 mm | Viper 650, Add-On, 5 kg payload, 653mm reach, 6 axis, IP40, ePLC, Cleanroom |
| | 5 kg | 855 mm | Yes | IP40 | none | 0.03 mm | Viper 850, Add-On, 5 kg payload, 855mm reach, 6 axis, IP40, ePLC |
| | 5 kg | 855 mm | Yes | IP65 | none | 0.03 mm | Viper 850, Add-On, 5 kg payload, 855mm reach, 6 axis, IP65, ePLC |
Restablecer todos los filtros
Comparar productos
Mostrar otros productos
Accesorios
Ordering information
Apperance
Type
Name/Specifications
Order code
Robot Controller
SmartController EX
19200-000
SmartController EX + Front Panel
19300-000
Pendant
T20 Pendant with 10 m Cable
10046-010
T20 Pendant-Jumper Plug
10048-000
T20 Pendant Wall Bracket
10079-000
T20 Adapter Cable, 3 m
10051-003
Vision Controller
IPC Application Controller
AC1-152000
SmartVision MX
14189-901
Camera
GigE PoE, 658 x 492 pixels, 120 fps, Monochrome, CCD (1/4-inch equivalent), camera cables included (10 m)
24114-100
GigE PoE, 658 x 492 pixels, 120 fps, Color, CCD (1/4-inch equivalent), camera cables included (10 m)
24114-101
GigE PoE, 1296 x 964 pixels, 30 fps, Monochrome, CCD (1/3-inch equivalent), camera cables included (10 m)
24114-200
GigE PoE, 1296 x 964 pixels, 30 fps, Color, CCD (1/3-inch equivalent), camera cables included (10 m)
24114-201
GigE PoE, 1602 x 1202 pixels, 60 fps, Monochrome, CMOS (1/1.8-inch equivalent), camera cables included (10 m)
24114-250
GigE PoE, 1602 x 1202 pixels, 60 fps, Color, CMOS (1/1.8-inch equivalent), camera cables included (10 m)
24114-251
GigE PoE, 2048 x 2048 pixels, 25 fps, Monochrome, CMOS (1-inch equivalent), camera cables included (10 m)
24114-300
GigE PoE, 2048 x 2048 pixels, 25 fps, Color, CMOS (1-inch equivalent), camera cables included (10 m)
24114-301
Belt Encoder
(Conveyor-Tracking)
Encoder Kit IP65
09742-001
Y-Adapter Cable, 3 m
09443-000
Encoder Extension Cable, 5 m
09446-050
SCEX-BELT,Y-Adapter Cable, 0.5 m
09550-000
XBELTIO Cable, 0.6 m
13463-000
Additional I/O Options
IO Blox (connect to robot), 8 inputs/8 outputs, cables included (0.3 m)
90356-30200
IO Block (connect to previous IO Blox), 8 inputs/8 outputs, cables included (0.3 m)
90356-30100
IO Blox-to-robot Cable, 3 m
04677-030
IO Blox-to-IO Blox Cable, 3 m
04679-030
IO Blox-to-IO Blox Cable, 0.3 m
04679-003
XIO Termination Block, 12 inputs/8 outputs, cables included (1.8 m)
90356-40100
XDIO Termination Block, 50 pin, cables included (2 m)
09747-000
Front Panel
Front Panel with 3 m cable
90356-10358
Front Panel Cable, 3 m
10356-10500
Power Supply/Cable
AC Power Cable, 5 m
04118-000
24 VDC Power Cable, 5 m
04120-000
24 VDC, 6.5 A, 150 W (Front Mounting), Power Supply
S8FS-G15024C

2

Refer to the Switch Mode Power Supply Datasheet (Cat.No.T207) for details.
24 VDC, 6.5 A, 150 W (DIN-Rail Mounting), Power Supply
S8FS-G15024CD

2

Refer to the Switch Mode Power Supply Datasheet (Cat.No.T207) for details.
1394 Cable, 4.5 m
13632-045
eAIB XSYSTEM Cable Assembly, 1.8 m
13323-000
DB9 Splitter, 0.3 m
00411-000
eAIB XSYS Cable, 4.5 m
11585-000
Ethernet Cable
XS6W-6LSZH8SS⬜⬜⬜CM-Y

2

Refer to the Industrial Ethernet Cables Catalog (Cat.No.G019) for details.
Industrial Switching Hubs
W4S1-05C

2

Refer to the Industrial Switching Hubs Catalog (Cat.No.V227) for details.
Solenoid Valve Kit
eCobra robots (600, 800, 800 Inverted)
02853-000
Cable Seal Kit
Hornet 565 IP65/67, Quattro 650HS IP65/67, Quattro 800HS IP65/67
08765-000
Quattro 650HS Standard, Quattro 800HS Standard
09564-000
eCobra 800 IP65/67
04813-000
eCobra 800 Inverted IP65
09073-000
ACE License
Automation Control Environment (for ACE 4.x)
Please download it from following URL:
http://www.adept.com/Robots-Tool
ACE PackXpert (for ACE 4.x)
20409-000
ACE Sight Vision Software (for ACE 4.x)
20410-000
ACE PackXpert with ACE Sight Vision (for ACE 4.x)
This license contains an ACE PackXpert license and an ACE Sight license.
20433-000
Related Products
Machine Automation Controller NX/NY/NJ Series
NX/NY/NJ

2

Refer to the Sysmac Catalog (Cat.No.P072) for details.
Automation Software Sysmac Studio
SYSMAC-SE2⬜⬜⬜

2

Refer to the Sysmac Catalog (Cat.No.P072) for details.
Collection of software functional componentsSysmac LibraryAdept Robot Control Library
SYSMAC-XR009

2

Refer to the Sysmac Library Catalog (Cat.No.P106) for details.
Note:
Contact your Omron representative for lenses, lights, and licenses.
Sysmac Library
The Sysmac Library is a collection of software functional components that can be used in programs
for the NX/NY/NJ Machine Automation Controllers.Please download it from following URL and install to Sysmac Studio Automation Software.http://www.ia.omron.com/sysmac_library/The Adept Robot Control Library allows you to control Delta, Articulated and SCARA robots manufactured
by Omron Adept Technologies Inc. from the NX/NY/NJ Machine Automation Controller by using the same
instructions and programming methods.
¿En qué podemos ayudarle?
Si tiene alguna duda o necesita información sobre un presupuesto, póngase en contacto con nosotros o envíe una solicitud.
Serie de robot articulado
Viper 850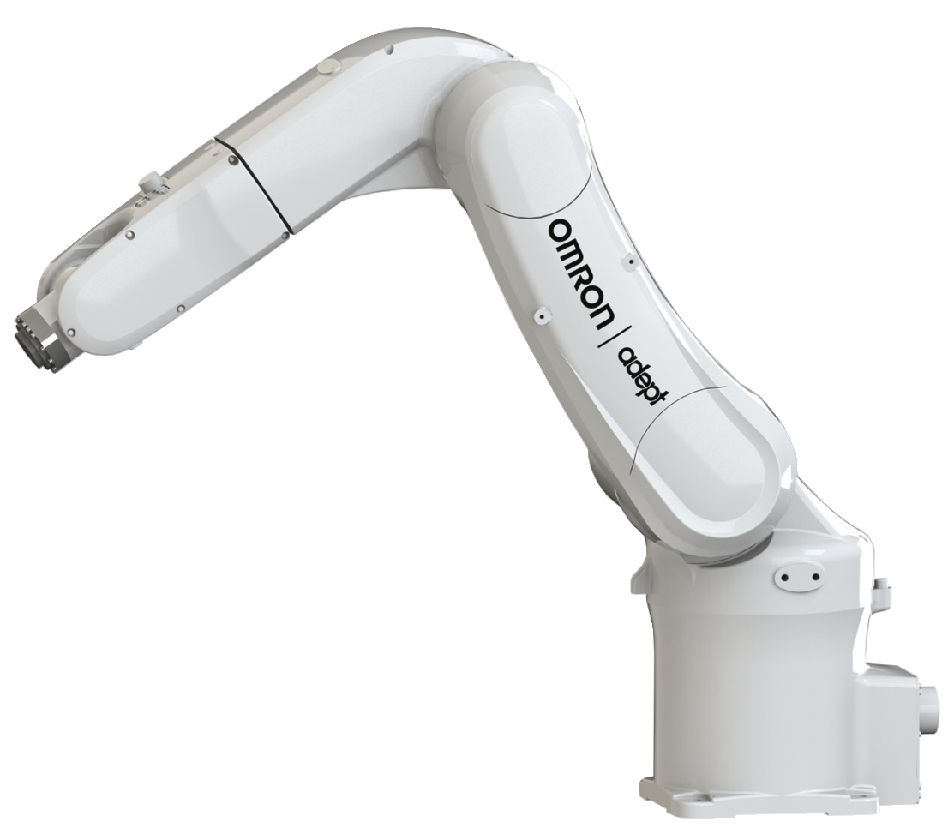 Carga máxima: 5 kg
Alcance: 855 mm
IP40, sala limpia C10 como opción
Montaje en soporte de mesa, suelo o invertido
Viper 650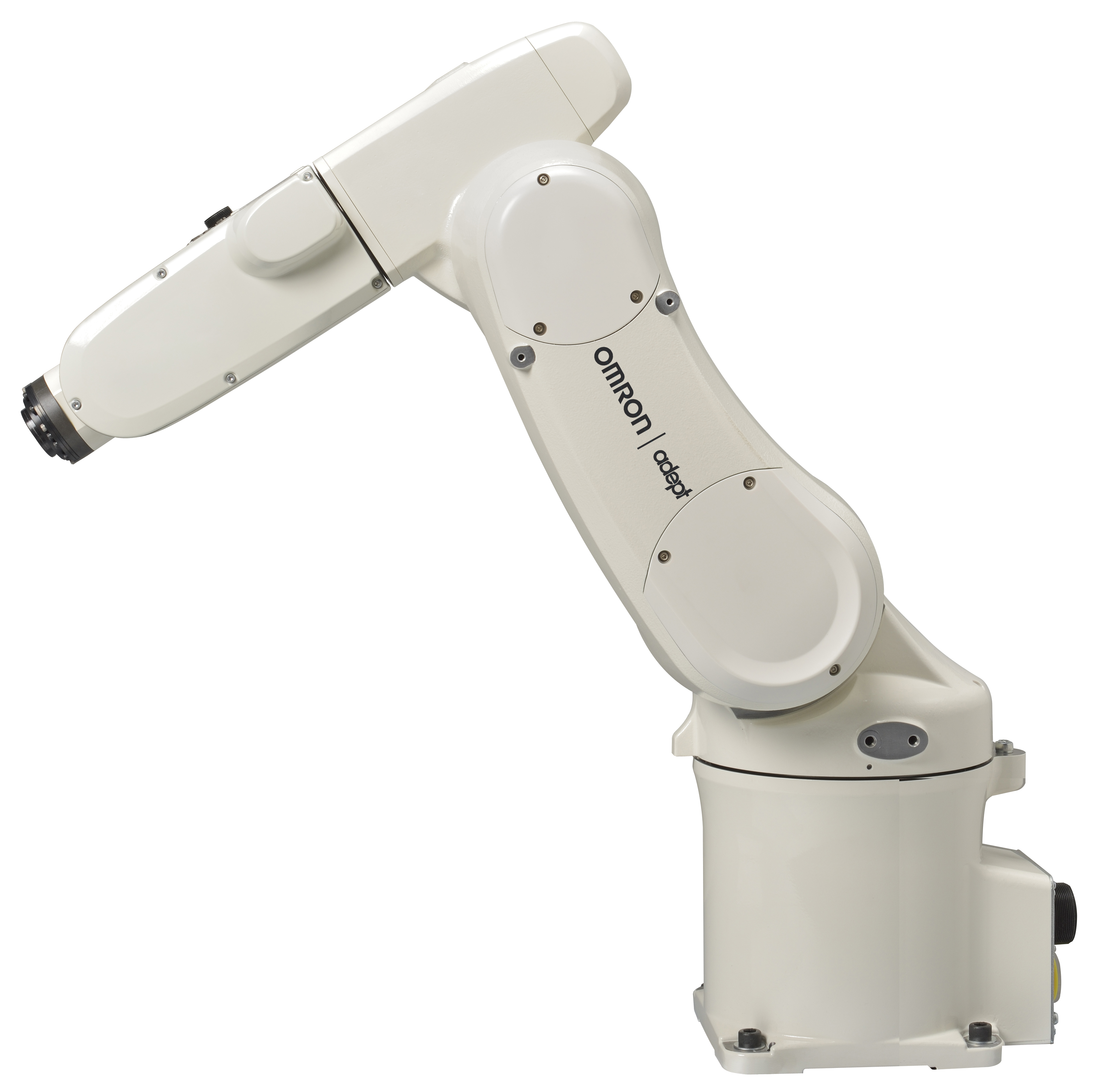 Carga máxima: 5 kg
Alcance: 653 mm
IP40, sala limpia C10 como opción
Montaje en soporte de mesa, suelo o invertido
Unidades de control
Robot Control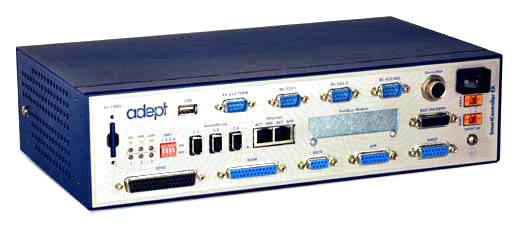 SmartController EX
Un controlador ultracompacto de alto rendimiento, para control distribuido, capaz de controlar una línea de producción completa compuesta por hasta 4 robots y periféricos de terceros. La arquitectura distribuida del controlador, el software integrado, el sistema de sincronismo con cinta y las comunicaciones de alta velocidad permiten a los usuarios integrar sus sistemas de automatización a través de la sencilla interfaz ACE basada en PC.
Diseñado para su uso con robots SCARA Cobra, robots Viper de seis ejes, y robots paralelos Quattro y Hornet, el controlador cuenta con comunicaciones Gigabit Ethernet, un procesador de alta velocidad y un nuevo software denominado Adept eV+. La integración con SmartVision ofrece un excelente control de sus sistemas de visión, cintas y robots. El SmartController EX ofrece un control inteligente.
Software/interfaces de comunicaciones
Puerto serie RS- 232 (115 kbps), puerto serie RS- 422/485, Gigabit Ethernet, DeviceNet, interfaz SmartServo (3x), sistema de funcionamiento multitarea en tiempo real y lenguaje de programación eV+, ACE™, interfaz TCP/IP
Compatibilidad con robots
Robots Cobra, Viper, Quattro y Hornet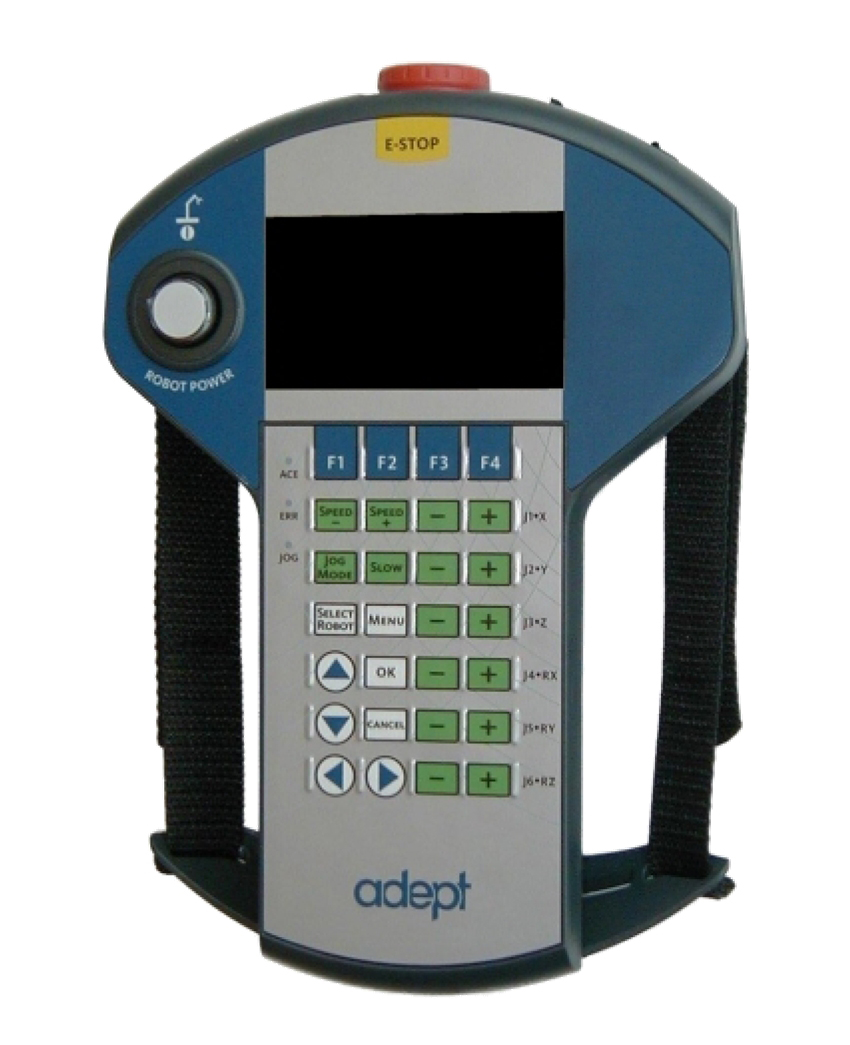 Consola T20
La consola T20 ofrece una solución ergonómica y resistente con la que los usuarios pueden manejar y programar el sistema de robots. Todas las posiciones de agarre y sujeción permiten un manejo cómodo y relajado. La consola T20 es compatible con cualquier robot compatible con el controlador SmartController EX.
Detalles del producto - Compatibilidad
Activación/desactivación de la alimentación
Desplazamiento del robot manualmente en diferentes modos (joint, world, tool, frame)
Pulsador de parada de emergencia e interruptor de activación de 3 posiciones
Interfaz de usuario a color y de alta resolución
Programación de posiciones
Monitorización de la posición del robot, E/S digitales y estado del sistema
Monitorización de la dirección IP del controlador
El producto incluye
Consola T20 con cable de 10 m, cable adaptador de 3 m con conector para panel y documentación
Vision & Inspection Guidance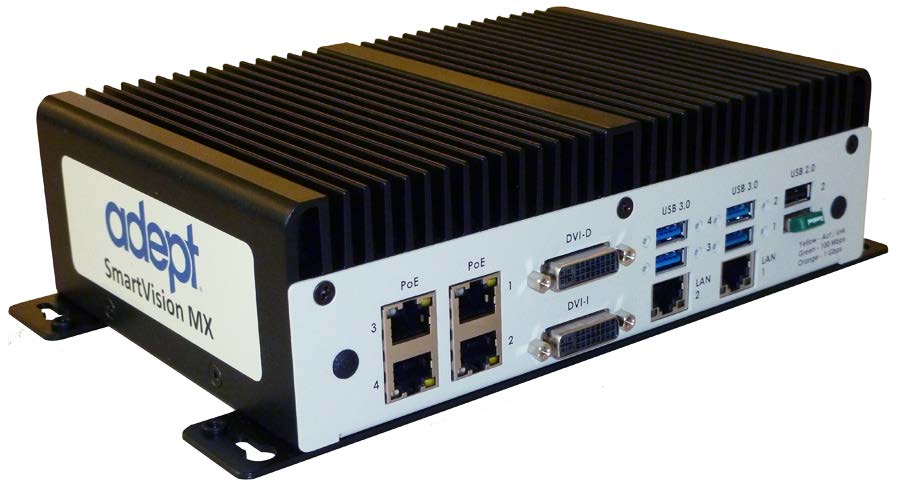 Sistema de visión e inspección: SmartVision MX
SmartVision™ MX es un procesador de visión de alto rendimiento optimizado para aplicaciones de visión. El SmartVision MX representa la forma más simple y asequible de añadir potentes funciones de guiado por visión a sus aplicaciones robóticas. Ideal para su uso en entornos de producción, el sistema cuenta con un diseño resistente sin ventiladores, una unidad de estado sólido y una amplia gama de temperaturas de funcionamiento, lo que garantiza un alto nivel de fiabilidad.
Los puertos Gigabit Ethernet con Power over Ethernet (GigE PoE) y USB 3.0 permiten integrar una gran variedad de cámaras de visión. El SmartVision MX integra la potente plataforma de software ACE. Opcionalmente permite añadir AdeptSight™ para aplicaciones de inspección o de guiado por visión, y ACE PackXpert™ para la implementación de aplicaciones de packaging.
Características del producto
Procesador Intel Core i7, 8 GB DDR3 de RAM y Windows 7 64 bits
Diseño industrial y resistente sin piezas móviles
4 puertos GigE PoE y 4 USB 3.0 para las cámaras de visión
Software ACE™ de serie, con ampliación opcional para aplicaciones de guiado por visión
Compatible con el software PackXpert de automatización completa de líneas de packaging
Ventajas
Su potente unidad de procesamiento es capaz de gestionar imágenes de alta resolución y velocidad
Mejora la fiabilidad y reduce el mantenimiento en instalaciones industriales
Compatible con hasta ocho cámaras simultáneamente (el máximo depende de los requisitos de la aplicación)
La ampliación de visión AdeptSight proporciona una serie de herramientas potentes y fáciles de usar para tareas de detección e inspección de objetos
Simplifica la implementación de soluciones de automatización de packaging con configuraciones basadas en asistentes y en unos requisitos mínimos de programación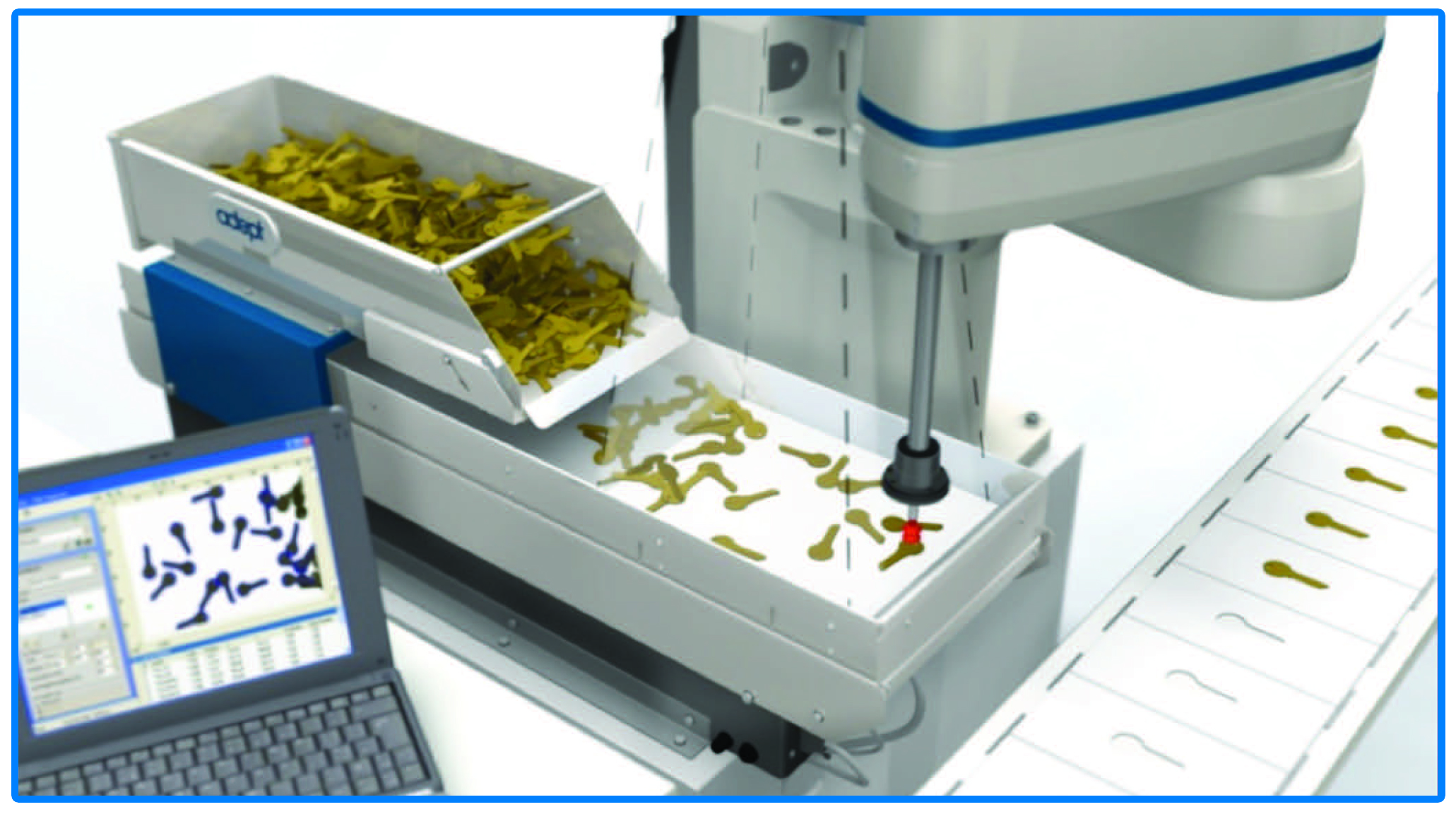 Aplicaciones de guiado por visión: ACE Sight
Sistema independiente de inspección y guiado por visión fácil de usar, y ejecutable en un PC; incluye todo el hardware y los accesorios necesarios. Este software incluye un potente marco de trabajo que puede utilizarse para desarrollar aplicaciones avanzadas de inspección y guiado por visión. Su sencilla interfaz gráfica permite desarrollar rápidamente aplicaciones de visión robustas y precisas. ACE Sight simplifica la implementación en condiciones difíciles gracias a su robusto sistema de visión, con algoritmos de tolerancia a la mala iluminación, al ruido y a los obstáculos.
Características del producto
Localización de piezas rápida y precisa
Programación automática de modelos completamente editables
Alta capacidad de inspección
La herramienta de filtrado simplifica la configuración de aplicaciones tipo "Pass/Fail"
Software de guiado por visión y calibración
Desarrollo de aplicaciones
Calibración
Sincronismo con cinta transportadora
Sistema de robots guiados por visión completo
El paquete incluye
Software ACE Sight, cámara FireWire y resolución 640 x 480 o 1392 x 1040, con lente de 16 mm, kit de montaje de la cámara, cable FireWire (10 m)