Conozca a los cotrabajadores de última generación
Aumente la productividad de su personal
Imagínese que dispone de todas las manos que necesita para mantener la producción en marcha y satisfacer la demanda. ¿Busca una nueva incorporación para mejorar la productividad de su equipo? Conozca a los cotrabajadores de última generación.
Los cobots son fáciles de configurar y ofrecen una solución rápida y rentable. Permiten aumentar la flexibilidad, la calidad y la velocidad de producción, y ayudan a su empresa a responder rápidamente a las condiciones cambiantes del mercado.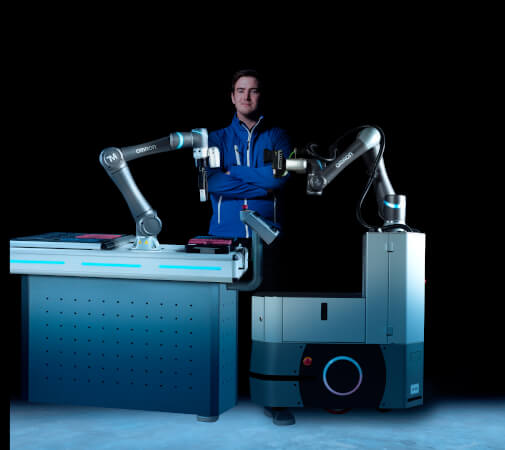 Puesta en servicio sencilla
Para reducir el tiempo de inactividad que supone el proceso de automatización con robots, necesita uno que pueda ponerse en marcha rápidamente y que funcione ininterrumpidamente. Entregamos nuestros cobots con todo lo necesario para ponerlos en marcha nada más sacarlos de la caja.
Bajo coste operativo
Los cobots proporcionan el mayor retorno de inversión. Además, se pueden adaptar a los nuevos procesos y diseños de producción en cuestión de minutos.
Flexibilidad
Nuestros robots colaborativos están diseñados para incorporarse fácilmente a diferentes tareas y aplicaciones, lo que hace que la producción sea lo más flexible posible.
Trabajar en armonía
Nuestros cobots aprenden rápido y pueden hacer que su producción sea más eficiente. En tan solo unos minutos, puede enseñarles a compartir tareas con los humanos y a adaptarse de forma flexible a los nuevos requisitos. Aproveche las ventajas de las funciones de seguridad integradas que les permiten trabajar junto con personas o cerca de ellas y aumentar la productividad en una amplia variedad de tareas repetitivas.
Vea el vídeo
Omron's factory in Shanghai is creating an environment where people and robots work together, to meet challenges in manufacturing today, such as shortage in manpower and overall equipment effectiveness (OEE). In this video, you can see how Omron TM collaborative robots work safely side-by-side with people.

04:46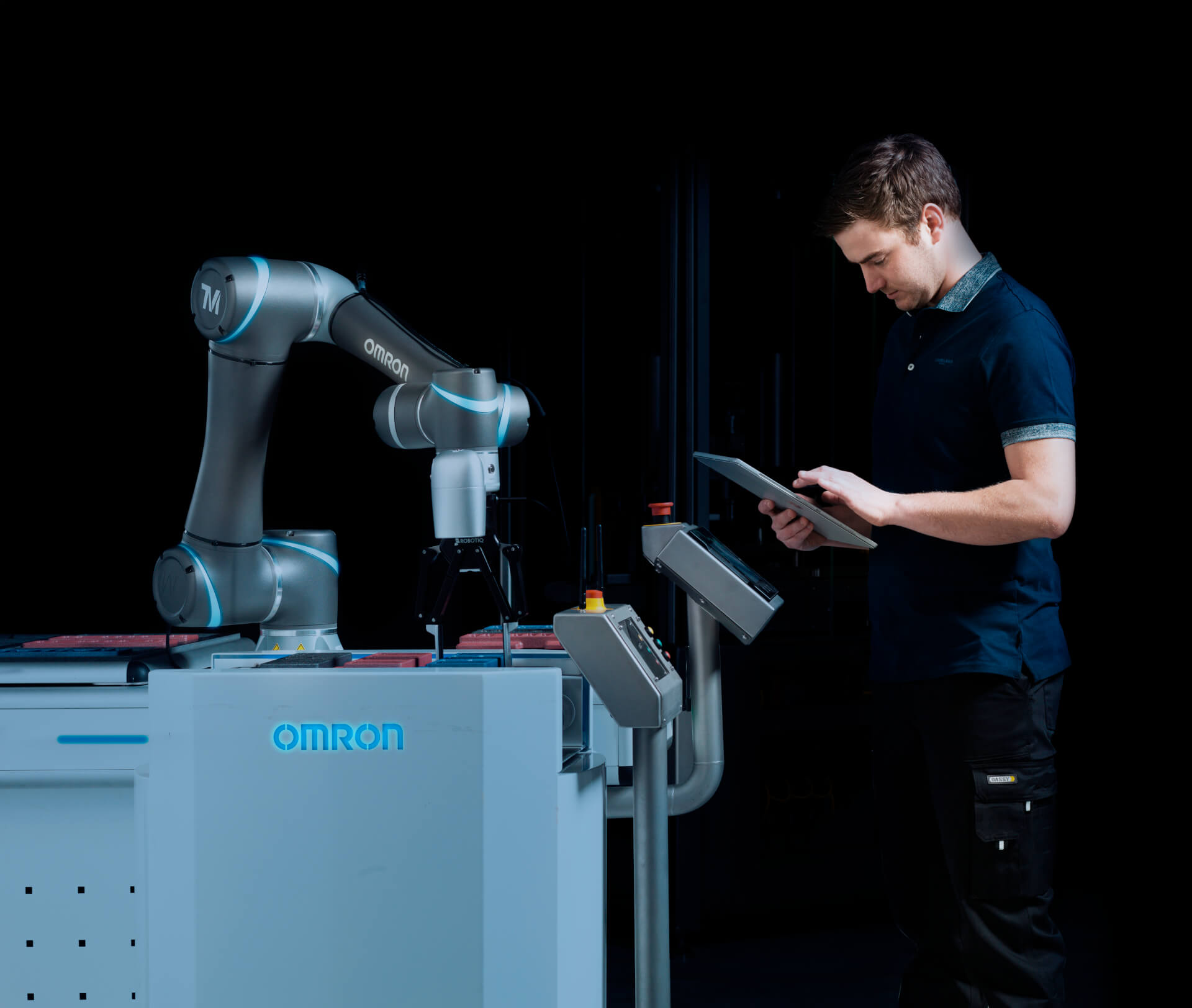 Aplicaciones
El robot colaborativo TM de OMRON está diseñado para adaptarse a casi cualquier sector, ya sea automoción, alimentación y bebidas, packaging, plásticos, máquinas herramienta o farmacéutico.
¿Le interesa saber más acerca de nuestros robots colaborativos?
Seguridad en aplicaciones colaborativas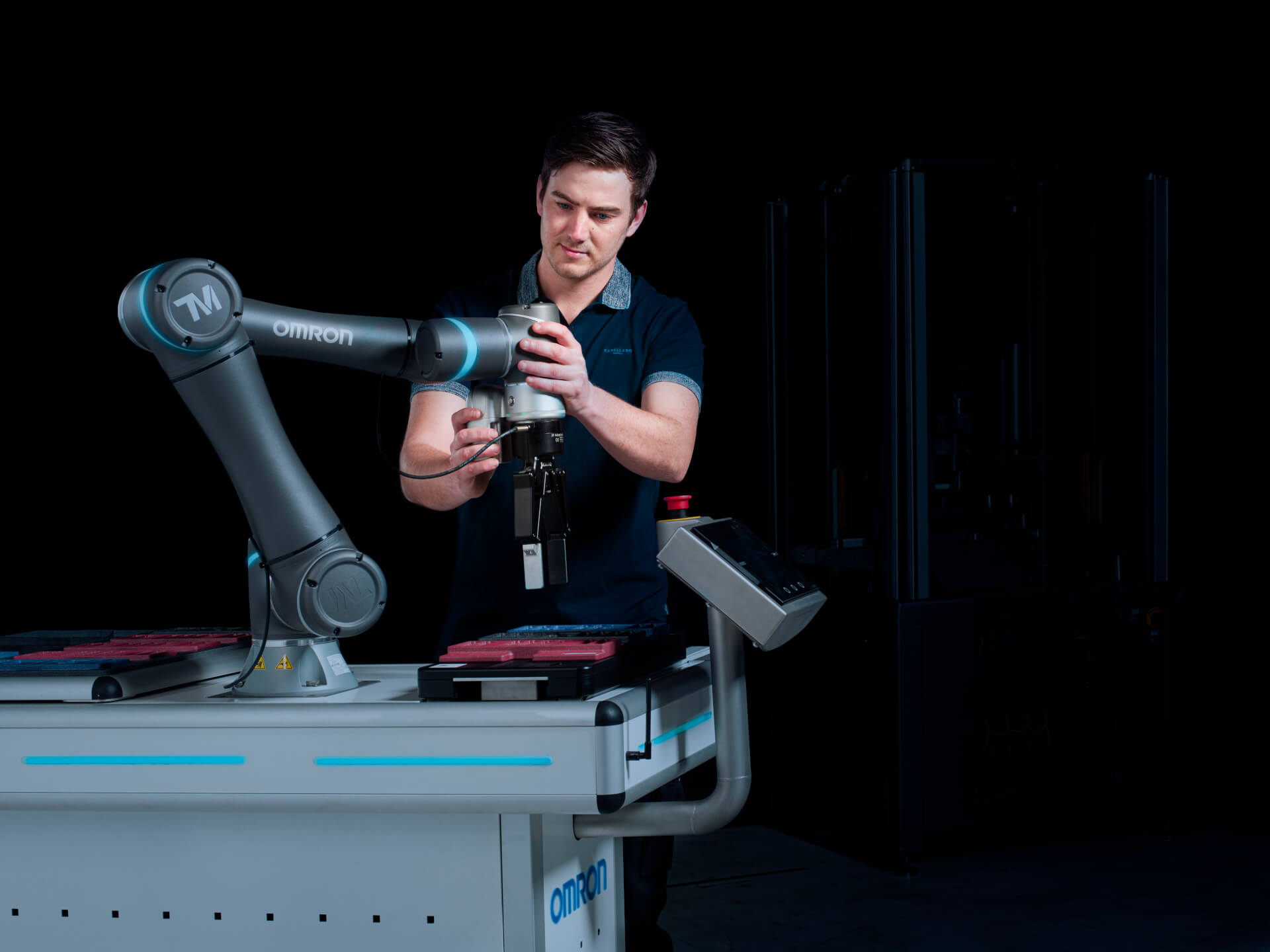 Los robots colaborativos cuentan con funciones de seguridad integradas que les permiten trabajar en armonía con los operarios y, al mismo tiempo, aumentar la productividad en una amplia variedad de tareas extenuantes y repetitivas.
Los cobots son fáciles de integrar y se adaptan de manera rápida y sencilla a las nuevas situaciones. Trabajarán en estrecha colaboración con sus empleados y les permitirán disponer del tiempo necesario para hacer lo que los seres humanos hacen mejor: tareas creativas y de valor añadido.
Las funciones de seguridad y el rendimiento de los robots colaborativos se rigen por las normas de seguridad ISO 10218-1 e ISO 10218-2 y la especificación técnica ISO TS-15066. Le invitamos a que se descargue nuestro whitepaper para obtener más información sobre las normativas del sector, evaluaciones de riesgos, buenas prácticas y estrategias para maximizar el valor de su aplicación.
Servicio de Evaluación de Riesgos
Nuestro equipo le ayudará a integrar los cobots en su equipo. Empezaremos con una evaluación de riesgos para mitigar las contingencias de seguridad en su producción. Nuestros ingenieros de seguridad cuentan con una experiencia inigualable para trabajar en sus instalaciones e identificar los estándares y requisitos pertinentes para cualquier interacción entre personas y máquinas.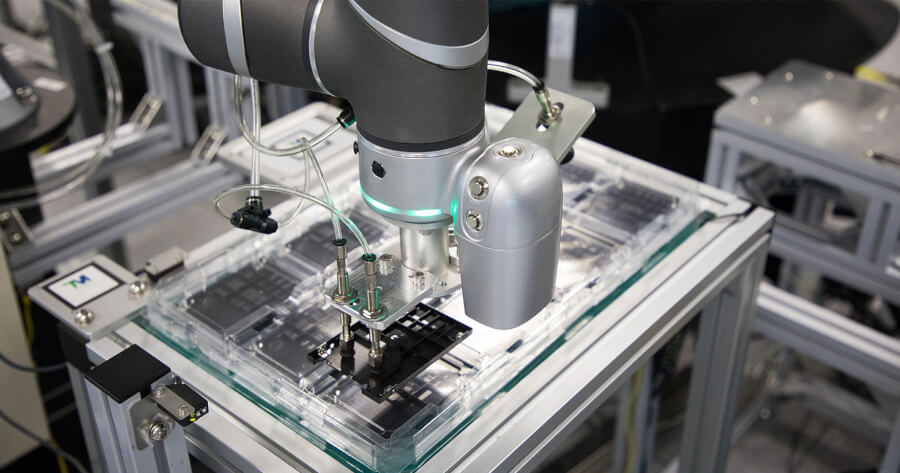 GRABACIÓN DEL SEMINARIO WEB
Al automatizar las operaciones de montaje con una o varias aplicaciones robóticas colaborativas, se aumenta la velocidad y la calidad de la producción, al tiempo que se reducen riesgos y costes.
Impartido el 28 de ene, 2021
Conozca a los cotrabajadores de última generación
La gama de robots colaborativos de OMRON incluye una gran variedad de modelos para garantizar el alcance y la carga útil adecuados para diferentes aplicaciones.
Alcance
Carga útil
Velocidad máx.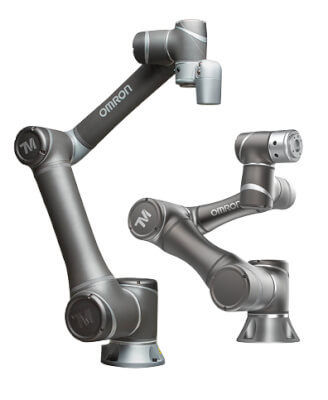 TM 5 - 700
Alcance

700 mm

Carga útil

6 kg

Velocidad máx.

1,1 m/s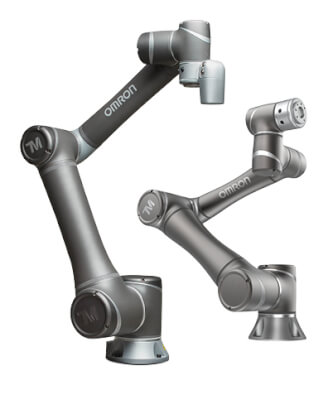 TM 5 - 900
Alcance

900 mm

Carga útil

4 kg

Velocidad máx.

1,4 m/s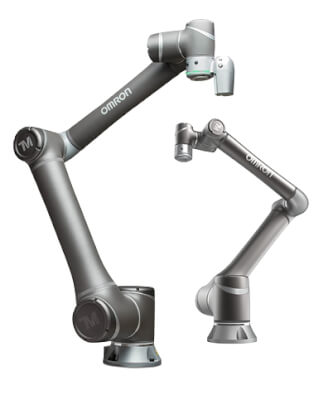 TM 12
Alcance

1300 mm

Carga útil

12 kg

Velocidad máx.

1,3 m/s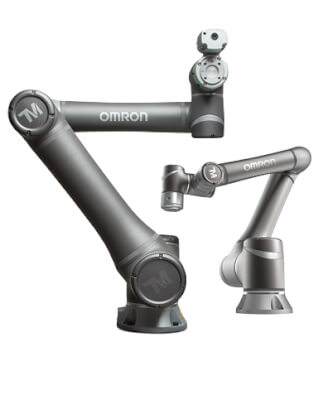 TM 14
Alcance

1100 mm

Carga útil

14 kg

Velocidad máx.

1,1 m/s
Los cobots proporcionan una mayor flexibilidad
Hemos diseñado nuestros robots colaborativos de manera que se puedan implementar fácilmente en diferentes tareas y aplicaciones. De este modo, su producción será tan flexible como sea necesario y su personal podrá dedicarse a las tareas para las que realmente están más preparados.